External Academics
Dr. Thomas Kick
Thomas Kick is head of the stress testing section in the banking supervision department of the Deutsche Bundesbank. In addition to that, he is a lecturer at the FAU for the Master's degree course "Banking Supervision". His research focuses on empirical banking and financial intermediation, financial stability and stress testing.
His research has been published in the following academic journals:
Credit and Capital Markets
Financial Markets and Portfolio Management
Journal of Banking and Finance
Journal of Business Finance and Accounting
Journal of Corporate Finance
Journal of Financial Intermediation
Journal of Financial Stability
Journal of Money, Credit and Banking
Review of Finance
Schmalenbach Business Review
Sebastian Becker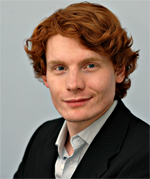 Sebastian Becker studied between 2007 and 2011 Political Sciences (B.A.) with a focus on economics at the University of Erfurt. At a stay at the University of Xi'an, China, he followed by studying a Master's program at Vrijen Universiteit Amsterdam, which he concluded in December 2012 with the title M.Sc. graduated in Economics. In January 2013, Mr. Becker joined as a fellow in the graduate program of the IAB. Since April 2013 Sebastian Becker has been working as a researcher in the field of "employment promotion and employment". His research focuses on the effectiveness of instruments for acquiring ensure and promote, in particular, the economic short-time allowance.